Great news !
The Miniboux are now in a sweet shop nearby a pretty beach!
Actually, a new little shop of local creators has opened during february & some handmade Miniboux homegoods have a spot there.
All the creators in this shop are living & working in west Brittany, three of them got their workshop on the back. If you go this way, be sure to have a look, you will find pretty clothes, sweet porcelain jewels & so many pretty things for your home, your kids or yourself!
And there is tea towels, tote bags & postcards from The Miniboux.
I didn't take any pictures of La boutig yet, but there's some pictures in this blog post of one of the textile designer there, La fée du Lutin :
Bonne nouvelle !
Les Miniboux se sont maintenant installés dans une jolie petite boutique juste à côté de la plage !
En effet, une nouvelle boutique de créateurs vient d'ouvrir mi-février à Porspoder (29) & les Miniboux ont rejoint les rangs des talentueux créateurs déjà présents.
Tous les créateurs présentés dans cette boutique sont des artistes/artisans locaux de la pointe finistérienne et trois d'entre elles ont leur atelier sur place à l'arrière. Il y aura surement des journées portes ouvertes, je vous tiendrais au courant.
Mais si vous êtes dans la région de Porspoder ne manquez pas d'aller voir par vous-mêmes ce nouvel espace où vous trouverez des vêtements, des sacs, des bijoux en porcelaine (que j'aime tout particulièrement) et encore plein d'autres créations pour votre maison, vos petits moussaillons et pourquoi pas pour vous après tout !
Les Miniboux sont donc présents à la Boutig sous forme de torchons, de tote bags (mais si vous savez, ces sacs en toile qui servent à tout, faire les courses, aller à la bibliothèque ou bien à la plage...voilà, ceux-là !) et des cartes postales.
Je n'ai pour l'instant pris aucune photo de la boutig, mais vous pourrez en voir sur le blog de la Fée du Lutin, l'une des créatrices textiles présentes là-bas :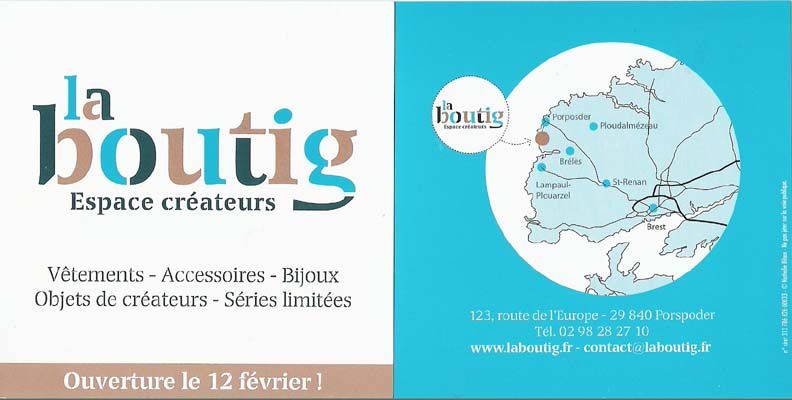 123, rue de l'Europe - 29840 Porspoder
Les horaires de la Boutig :
mardi & mercredi : 10h - 12h / 15h - 18h
jeudi : 10h - 12h / 17h - 20h
vendredi : 10h - 12h / 15h - 18h
samedi : 10h - 12h / 15h - 18h
Il se peut que les horaires évoluent, je me tiens informée mais n'hésitez pas à téléphoner directement à la Boutig pour en savoir plus ! Gwenaelle se fera un plaisir de vous accueillir et vous renseigner.